What is RITA?
RITA, which stands for Reminiscence Interactive Therapy Activities, is an innovative, evidence-based, state-of-the-art digital therapy system which allows patients to use apps, games and other leisure activities.
Used primarily for elderly patients with cognitive impairments, such as dementia, RITA is user-friendly technology and has shown to be effective in calming distressed or anxious patients.
The interactive touch screen system allows patients to enjoy relaxation music, watch archive BBC news footage, view old photographs and listen to famous speeches, to help spark memories and start conversations.
It can also be personalised with bespoke images and content in order to create a 'life story' collage, which is of particular help to patients with dementia.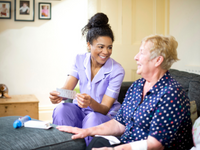 Benefits of RITA
reduces

agitation
isolation
depression
delirium
falls

improves

good nutrition
hydration
interaction with residents
staff morale
Who are we working with?
Following an application process the following Care Homes in Cheshire will take part in the project:
Clarendon Court, Nantwich
Henning Hall, Macclesfield
Barony Lodge Residential Care Home, Nantwich
Hollins Park, Macclesfield
Mayfield House Residential Care Home, Crewe
Bentley Manor Care Home, Crewe
Chapel House Nursing Home, Puddington,
Old Rectory Nursing Home, Capenhurst
Sable Cottage, Kelsall
Vale Court, Ellesmere Port
Lostock Lodge, Northwich
Plessington Court Care Home, Puddington
Crossways Care Home, Northwich