We feel so lucky to have such a great group of trustees. But don't just take our word for it.. hear from two of our trustees.
Register of Interests?
In line with Charity Commission guidance and our Memorandum and Articles of Association, EOLP holds a register of trustee and director interests to ensure that we can manage any conflicts of interest appropriately.
Lynn McGill
Chair of Trustee Board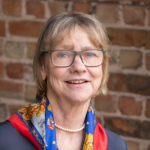 Ali Harrisson
Vice Chair of Trustee Board