Address: Unit 3, Spring Farm Business Centre, Moss Lane, Minshull Vernon, Crewe, CW1 4RJ
The Salli Jeynes Suite meeting room is located on the first floor with no lift access. If you are planning to visit Spring Farm, and have any mobility needs, please contact us to make suitable arrangements.
Please note their are significant roadworks around Leighton Hospitals which are not expected to be completed until May 2024.
Please check here before any journey to Spring Farm to avoid road closures and other traffic disruptions. 
Phone: 01270 310260
Email: Info@eolp.org.uk
Get in Touch
We would love to hear about your experience with the End of Life Partnership. Is there anything we did particularly well? Did a member of staff shine? Or maybe there was something we could have done better?
Positive feedback will be shared with the teams and any complaints will be handled in accordance with our Complaints Policy.
Thank you for helping us to be the best we can be.
Visit us at our carbon neutral site, where
84% of sites waste is recycled
Wind turbines produce green electricity

Micro-generation is used to supply a proportion of the centre's electricity
See the full green creditionals Spring Farm Business Centre.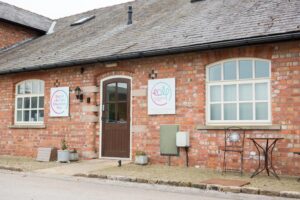 Entrance to the Head Office at Spring Farm.