Our e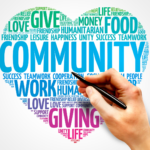 nd of year report details the work we have been involved with in the period April 2020 through to March 2021. 
Covid-19 has had a huge impact on the residents within our communities. It has also had a great effect on the activity of the public health team and dominated their workload.
This report presents information about the courses delivered and feedback from residents so far. It has highlighted important areas connected with the pandemic, which are especially important for the health and wellbeing of local people. Our 6 strategic strands have also informed our focus of delivery, these have included loss, grief and bereavement, reducing social isolation, reconnecting carers back into their community and the opportunity to support future life planning.