Cheshire - Living Well, Dying Well
Details

Category: News
Published: Tuesday, 13 October 2015 11:42
Written by Super User
Hits: 2686
"Carers need an awful lot of support because if they go under, then the person they are caring for will have to be provided with alternative care. I am really passionate about supporting carers especially those providing end of life care."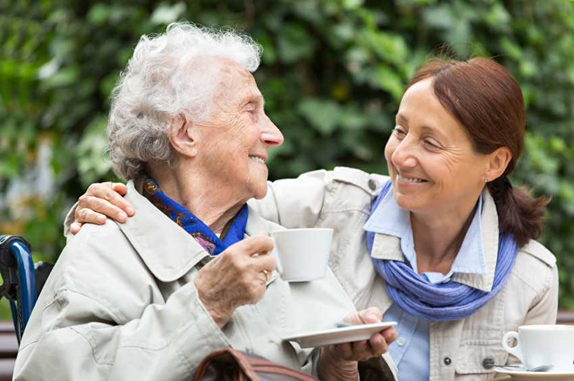 The Cheshire Living Well Dying Well (CLWDW) Partnership aims to enable, inspire and empower individuals and communities to live, age, grieve and die well. As you would expect from a partnership organisation, collaborating, supporting and learning from individuals and organisations throughout Cheshire is key to our work. Jill Cox, who has established the Patient and Carer Support at home in Rural Cheshire (PACS) project, is one of our CLWDW Champions.

PACS provides support to patients with life-limiting illness and their carers in their own home. The service is provided by fully qualified therapists and trained local volunteers and is coordinated through Ash-worth Time Bank and St Luke's Hospice. Practical, therapeutic and emotional help and support tailored to individual requirements is provided free-of-charge.
Ageing, dying and death affects health and wellbeing in many ways. This may be as a result of disability, illness, bereavement and caring for others.
What challenges do carers face when talking about these issues and how can they be alleviated? Jill recently spoke with Andrew Bennett, CLWDW, about these issues.
Jill has experienced the difficulties and benefits of caring for loved ones at home.
"My Dad died in 2007 after an unusually rapid decline in health due to dementia. Less than two years later, my Dad-in-Law died of cancer. We found out only two years after this that my Mum-in-Law had lung cancer; we prepared ourselves for the worst and hoped for the best. However, only nine months later she died in her own home having been cared for by a family friend, my husband and me.
"These experiences taught me a lot about the role of the carer, which led me to set-up PACS. As volunteers, we visit patients with life limiting illness and their carers in their own home, offering them support, visits out, time out from caring and holistic therapies."
Ageing, dying and death are sometimes not easy things to discuss but Jill believes that talking is key to living, ageing, dying and grieving well. She believes that having these important conversations when we are healthy means that we are prepared if the unexpected happens.
Jill says: "Carers who've had these conversations with their loved ones prior to a life limiting illness are more prepared and equipped to be able to help provide end of life care to a loved one. I've observed that humour can sometimes help to get the conversation started. I always respect those who choose not to talk about these issues. However, after letting them know I'm happy to listen to their preferences, I leave the door open should they change their mind."
Even knowing a couple of preferences of a loved one can make a huge difference.
"My Mum-in-Law's wish was to remain in her home. And with some discussion, rota management and support and education from local health professionals, we managed to achieve this. We had also discussed a back-up plan had her symptoms not allowed for this happen."
Jill believes that a useful way to support carers when their loved one comes to the end of their life is by helping them identify their own and their loved one's priorities and resolve conflicts as soon as is practical. This can really help improve the time they have together as well as helping the carer's bereavement afterwards. Jill is keen to take on such coaching roles with carers in the future.
Carers also need practical support as well, which is where PACS and similar services can make a big difference to the carer and patient. The support PACS volunteers provide includes listening to worries or concerns in a confidential manner; enabling carers to have well-deserved short breaks; offering comfort and relaxation through holistic therapies and providing practical help tailored to meet the needs of the patient.
Reflecting on her role supporting patients and carers in their home, Jill acknowledges the impact of the training, support and resources provided by the CLWDW Partnership. At present, she is completing her own My Wishes folder.
"Keeping information in one place will make things easier for you and your family if you need to be cared for and after your death."
Many of us will eventually need to be cared for. And some of us might be unable to make decisions for ourselves. Thinking about these issues and making our wishes and preferences known in advance of becoming ill or dying, can bring peace of mind for ourselves and those people close to us.
----------------------------------------------------------------------------
For more information about PACs, contact Ash-Worth Time Bank:
Tel: 01829 751398
Email: This email address is being protected from spambots. You need JavaScript enabled to view it.
For more information about the My Wishes Folder, click here: http://cheshirelivingwelldyingwell.org.uk/index.php/my-wishes-folder\
Andrew Bennett
Public Health and Wellbeing Worker
29 September 2015