The End of Life Partnership (EoLP) are thrilled to have received a 'Highly Commended Award' in the Digit@LL Connect category for its leadership around the Electronic Palliative Care Coordination System (EPaCCS).
The aim of EPaCCS is to improve the recording and sharing of people's wishes and preferences for end of life care, so that more people are able to die where they want and in a way that they choose.
By enabling better communication between healthcare professionals, EPaCCS supports effective coordination of care, which not only improves outcomes and experiences for those who are dying, but also for those close to them.
This award is in recognition of the level of commitment and partnership working across Cheshire to improving end of life care and The End of Life Partnership would like to take this opportunity to say a huge thank you to all those involved.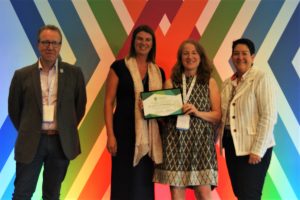 Pictured L-R;  Will Smart (

CIO for Health and Social Care in England),

Katie Whitehead (EoLP, EPaCCS Project Manager),

Dr Sinead Clarke (EoLP, Clinical Lead),

Mel Pickup (Chief executive at Warrington & Halton Hospitals Foundation Trust)
For more information on the Cheshire and Merseyside Digit@LL Awards, please visit ilinksmersey.nhs.uk/events/ilinks-x/cheshire-and-merseyside-digital-awards/