The End of Life Partnership were delighted to receive a donation of £8,000 from Orbitas, a wholly owned company of Cheshire East Council who carry out bereavement and handyperson services on their behalf.
The End of Life Partnership works with local communities and professionals, supporting them to achieve good quality end of life and bereavement care. The "All About Me" booklet has been developed by them to enable and empower people to think about, talk about and document important information on their life. The donation will enable more booklets to be produced as well as supporting the annual conference, which this year is themed "Exploring Complexity in End of Life Care".
Cllr David Marren, Chairman of Orbitas Bereavement Services said "We are extremely pleased to be able to support a local charity working with local people on such an important topic. Engaging with people to think about their future care is a difficult but important job and the work of The End of Life Partnership helps people to feel comfortable and confident doing so."
Salli Jeynes, CEO, The End of Life Partnership added "We are overwhelmed by the generosity of Orbitas and for their on-going support for our organisation. David and the Board of Orbitas are passionate about encouraging people to talk and empowering others to listen on what are difficult topics. We'd like to thank them for their contribution to helping us play our part in this important work."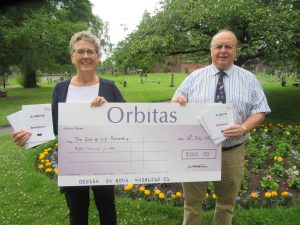 More information on Orbitas can be found at www.orbitas.co.uk.