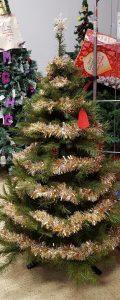 Cheshire Living Well, Dying Well have teamed up with Tesco in Crewe to offer a creative way to remember loved ones.
Frances Underhill, Macmillan Public Health and Wellbeing Officer, who leads the Crafting Memories initiative for CLWDW, was invited to place a Christmas tree in the foyer of the Tesco Superstore in Crewe. Shoppers and the general public can choose from a variety of tags to write a note, prayer or message to a loved one in remembrance of them at this time of year and tie it to the tree.
Several other organisations are also placing decorated trees at Tesco to support local charities.
Mid Cheshire Hospital's Trust
Homestart
Swans
Crewe and Nantwich Senior forum
Indigo
MCHT
Beechwood primary school
Good Company CIL
Everybody Sports and Leisure
If you would like to place a written memory, prayer, note on the tree visit Tesco in Crewe from 1st December -29th December. Thereafter memories will be taken down and kept at Winterley Grange near Sandbach until the end of January for anyone wishing to collect theirs.