Cheshire - Living Well, Dying Well
Details

Category: News
Published: Tuesday, 18 July 2017 11:09
Written by Super User
Hits: 1862
Community organisations and residents in Chelford are currently working with Cheshire Living Well, Dying Well to enable Chelford to become a 'Compassionate Community'. One of the key areas, identified by community members, is wanting to tackle loneliness and social isolation and to help the community to feel more confident about helping and supporting each other.
Chelford Tennent's And Residents Association known as CTARA, felt Cheshire Living Well, Dying Well's Crafting Memories Project would help create an ideal opportunity for their residents and the wider community to engage (some for the first time) in crafting activities, whilst building confidence to share what is important to them.
By establishing the group it is hoped that people will build new friendships, improve their social network and also feel more confident to ask for and provide support and advice to each other. Initially the group began with a six week programme each week having an important topic such as remembering someone that has died, or thinking about their hopes and wishes for the future. The group then began making their own cushions, memory boxes, memory candles, 'All About me' folders and a group Canvas of a tree representing the changing community over the six weeks. The participants recounted the sessions:
'It got the grey matter working' 'mentally keeping us alert' 'meeting friends' 'working together as a group' ' sat and made extra friends' 'done things I didn't know I could' ' learning about other people's loves' 'Enjoyable' 'brought people together' 'Learning about other people: their lives and thoughts' 'talking about death and planning for later life in an informal situation'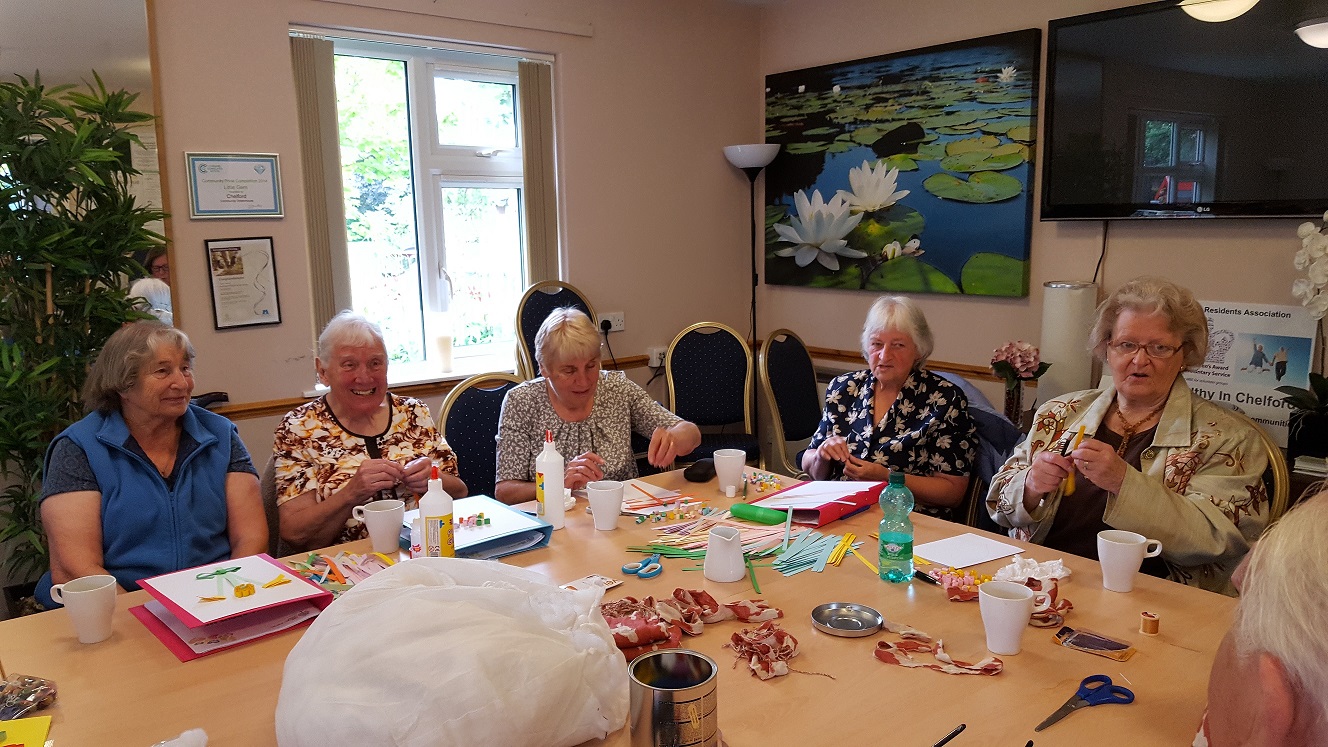 Pictured above; members of the Chelford Tennent's And Residents Association
The group are completing their canvas before planning other activities over the summer such as gardening, flower arranging, bird tables for the community, harvest festival, twiddle muffs for those in the community with dementia and crochet poppies for Remembrance Day. The group now plan to continue every Friday 10am -12pm at Astle Court Community Room, Elmstead Road in Chelford. The sessions are free to attend.
Please contact CLWDW if you would like further information and we can signpost to the group members.