The End of Life Partnership has recently launched an exciting new project working with local Care Homes.
The project aims to support Care Homes in the delivery of good palliative and end of life care for residents, many of whom have dementia. Facilitators from the End of Life Partnership have linked with Care homes across Central & Eastern Cheshire and will visit on a weekly basis to provide advice, support and deliver educational sessions to staff.
The launch event, held at St Luke's Hospice, was attended by the projects Partner organisations which include local Care Homes, Care Commissioning Group's, North West Ambulance Service and Cheshire East Social Services, all keen to hear about the new project.
Speaking at the event Sally Rogers, Executive Nurse and Director of Quality and Safeguarding NHS Eastern Cheshire CCG, said "This is an important initiative which brings together all the different agencies working to provide better palliative and end of life care for all patients across Cheshire. I wish the team every success and we look forward to working closely with them."
Annamarie Challinor, Head of Service Development and Education, End of Life Partnership, added "We are thrilled to be involved with this exciting new project, supporting Care Homes. Our facilitators have specialised skills and a passion for improving dementia, palliative and end of life care. They are keen to start working with the care homes involved in the project."
Yvonne Reilly-Cooper, Area Support Manager, at Woodlands Nursing Home said "We are really looking forward to working with The End of Life Partnership. Dementia and end of life care is becoming an increasing feature of Care Home work and support in this area will help our patients receive excellent care"
Presentations were also given by Sarah Xhepa, Clinical Nurse Lead, GP Out of Hours and The Urgent Care Centre, Mid Cheshire Hospital NHS Foundation Trust and John McKay,GP with Special Interest in Older People East Cheshire NHS Trust.
For further information on the project, please contact Sian Harrison on 01270 758120.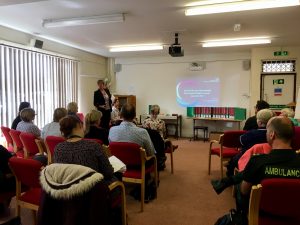 Pictured above:  Sally Rogers, Director of Quality NHS Eastern Cheshire CCG, presenting at the launch
—————————————————————————–